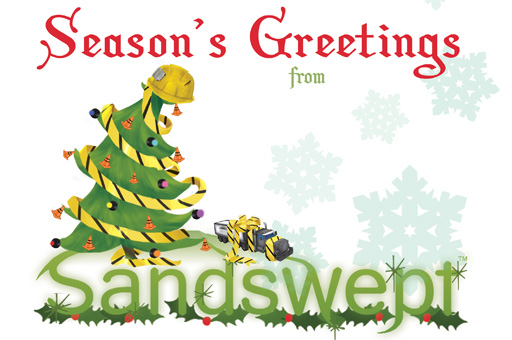 That time of year has come again, and what a busy one it's been! Consider this the update of Christmas Yet To Come!
Over the past month or so, we've had some very crazy, awesome, and otherwise cheer-bringing events!
- Sandswept turned THREE (Wow, we've been trucking along since December 2007!)
- DETOUR is nearing the final stages and we are now in "Bug Fixes Only" mode, prepping for release on Xbox LIVE Indie Games and a yet-to-be-unveiled PC platform at the start of 2011!
- Project 2 is secretly mounting up at the starting gate, and it will knock your socks off. Let's just say… We're going to try something new during the coming year. Something grand.
If you missed it, or just like reminiscing on days gone by, DETOUR is coming out really really really soon! Expect DETOUR to launch very rapidly, and without much warning. We're almost done, we're finishing it up, and we're going to get it into your hands as quick as we can! It terrifies us and excites us! Our trailer has garnered over 10,000 views, which we think is pretty awesome for our first go! If you have yet to see the trailer, follow this link!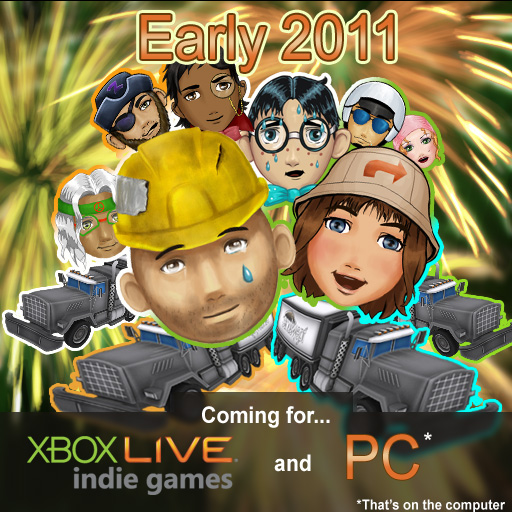 Now, like a good uncle (you know, the one who calls you a rascally devil and gives you noogies), we're going to bring you some presents, albeit a bit late. Over the next couple weeks, during the final stages of DETOUR's development, we'll be unveiling all the truck skins you can find in DETOUR. Shiny renders on the way!
Soon after release, we'll be touting how amazing this game is, because… Well, it's made by us. And we've got a thing or two up our sleeve here. If all goes according to plan — as they tend not to, just the way software goes — you should see DETOUR land around February, in the area of $10. A few lucky people might get it for a bit less. Maybe even free. More on that later! Oh, but we suggest you start watching our Twitter feed. No reason. Really.
And lastly, we'd love to thank each and every one of you, our past friends, fans, co-workers, and pets, for sticking with us throughout the years and keeping us motivated to bring DETOUR to you. We adore the continued support, and hope to see it for many, many, MANY years to come!
With that, I leave you with a classic 2009 (2010 recited!) rendition of The Night Before Creasemas! Enjoy! (Click for super-big HD version!)

Happy Holidays and Merry Creasemas!
Pardon Our Snow!