Hello Survivors!
You've waited for it.
The Dead Linger is finally available for pre-order on PC!
What is The Dead Linger? Check out our comprehensive FAQ!
Pre-Ordering The Dead Linger comes with many perks…
Play The Dead Linger the moment it becomes available* for download on Alpha Release!
You're helping fund development!
Discounted price! ($25 during Pre-Order)
You will receive all of the future patches and updates free of charge.
Free bugs and glitches! … Wait, take this one off the list.
You can directly help development by submitting feedback, suggesting ideas, and even contributing your own items! (How-To-Contribute page coming soon!)
No DRM. You buy it, it's yours to install and play where you please.
You can also play The Dead Linger offline and LAN.
We have future plans for modding support!
Exclusive DOVRAC Gas Mask in-game item! (See image below!)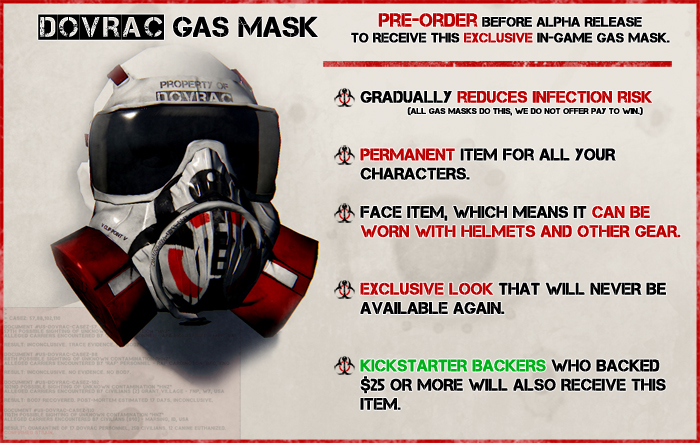 *The game is not available for download just yet, but when you pre-order The Dead Linger now, or during its Alpha stage, please remember that you are paying for the game as it is right now, during development. It is not finished, it is in progress, and you will be able to experience the game as we add new content, publish new updates, take feedback from the players (that would be you!), and all that good stuff. If you purchase the game now, you will never have to pay for it or any of the future updates ever again.
What about Mac and Linux pre-orders?
The game is currently not in development for Mac and Linux at this time, but we would like to bring TDL to those platforms in the future. If you purchase it for PC now, you will be able to play your copy on future platforms in the event that we do port to Mac and Linux. Stay tuned.