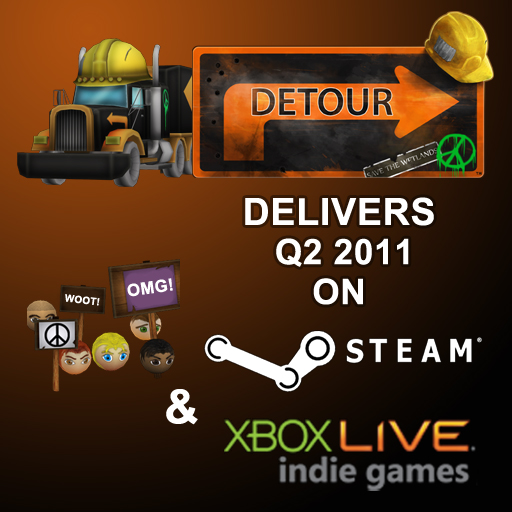 In an effort to increase the awesome around here, we made an on-the-fly decision that hasn't been planned out for months at all or anything like that. If you want to play DETOUR on PC, we've got good news for you. It's coming to Steam.
Oh yes. Let the Steamification commence.
Here's a couple cool facts that are definitely facts and not just made up right now:
- Ninjas use Steam. Every one knows that.
- It's still coming to Xbox LIVE Indie Games, so you'll be able to buy it on Xbox Marketplace if that's your sort of thing!
- The Steam version will come with Xbox 360 controller support, so those who like twiddling their thumbs and continue to twiddle their thumbs.
- All studios cater to some portion of their fanbase, so we're probably going to cater to Steam users. (No, we're kidding. Relax.)
- DETOUR is releasing on both platforms sometime during Quarter 2 of this year. That leaves it in an April-June-July timeframe. Unlike all those other release dates we estimated, that's pretty much confirmed. We're rearing to get this out and into your hands. We've got some huge plans for the next big thing.
Is that all? Uh. Yes. Yes, that is all. Time to spread the word. This game is gonna be awesome.
Visit these links and tell us what you think of this steamy hot news. We will love you.
DETOUR Steam Page
DETOUR Forum! Discuss!
Pardon Our Dust!